The SRM Training System is the leading choice of professional cyclists, triathletes and their coaches/trainers worldwide. Whilst used in Tour de France and Ironman Triathlons, enthusiasts and serious cyclists alike will benefit from choosing SRM to monitor cycling performance and control their training.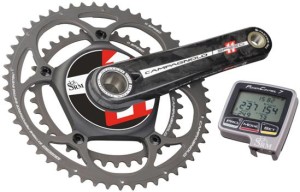 Power – Cadence – Heart Rate – Speed
Since 1987, SRM has pioneered and perfected the measurement of power in real world conditions. The SRM Powermeter is the only proven robust and accurate crank powermeter system compatible with every road, time trial, MTB or BMX drivetrain. Using ANT+ wireless protocol, power and cadence data is sent to the SRM Powercontrol computer for perfect viewing and storage. Imagine over 100 hours of use from a rechargeable battery and memory capacity for a season's worth of training. You will never worry about your battery dying on a ride, or running out of memory space, and one less device to remember to charge!
The free SRM software provides simple and effective access to your training data, downloaded via mini-USB and summarized in the unique Periodic Analysis. Of course, you can import training files into other coaching tools like WKO+ or Golden Cheetah.
To get started, read our blog, contact us, or shop now.