March 15-23, Solvang (CA) 4 cyclists, 1 chef aim to do it right in Solvang.
After 4 cold Alberta months with no rideable weather or roads, it was time to break the cycle and claim some road miles. Added incentive was the Solvang Double Century on March 22. Was it possible to get enough fitness to ride 200 miles after a winter training indoors plus one week of outside riding? Bikeage (Jason) decides to try, and Gordie, Peter, and cp enroll to support the cause.

Bikeage was putting the SRM Indoor Trainer to solid use during 2013-14 winter season. TrainerRoad.com offered the Tour of Sufferlandria as mid-January motivation to rack up extra hours.
When the team arrived in Santa Ynez on a hot Saturday afternoon, the gates of Paradise opened and the setting was perfect. A professional kitchen, hot tub, and tranquility to offset the punishment we were about to endure.


If you haven't looked it up yet, the Santa Ynez Valley sits less than one hour northwest of Santa Barbara, and features the communities of Solvang (Little Denmark), Buellton, Santa Ynez, and Los Olivos. From there, roads radiate into the hills and canyons dotted with wineries, vineyards, horse ranches, industrial farming, and even some legacy oilfields. This is productive land and the atmosphere is energetic. The Tour of California visited the area for the TT stage 4 times. In 2014, they will again pass through on stage 5.
The bikes were hastily assembled and test ridden before we sourced out nourishment for the week at El Rancho marketplace. Chef Nichole had a southern Mex-themed menu lined up, and everyone chose their own special nutrients.

Sunday morning arrived, and the first sortie was fired when Bikeage shot straight south for the beach on day 1. The Refugio road looked straightforward, but cp had mentioned something about a road closure.
We didn't read that link beforehand. If so, Pete might have thought twice about challenging it with a 39X23.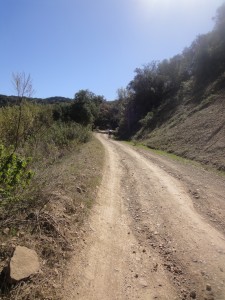 23mm tires need not apply, eh? We did it Canadia style, no flat tires, and no pushing.
The hikers were chasing us up though…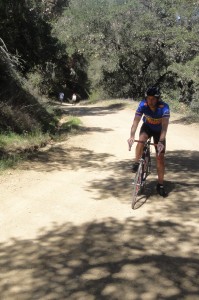 Truth is the climb is probably harder on the paved side. We didn't get a chance to find out – next year…
A tough descent awaits us:



Monday arrives, and ride choice was decided by Gordie and cp. Let's recover the legs on a long flat jaunt west – starting with Santa Rosa Road. Route sheet took us through Lompoc (bag of chips) a sweet climb and descent of Harris summit, Los Alamos and Drum Canyon (more chips), and back to Solvang.

Tuesday. Now the legs are smarting – but it's not snowing in the SYV so we might as well tackle the Fig. Strava couldn't even believe we would do that, and shut down in protest. Mt. Figueroa is a great test with views of the entire valley. Watch out for the rocks on the descent though. Jason's rear slashed tire was nobly fixed with a dollar bill – enough to hold the rest of the trip?

What, Fig clockwise not enough kilojoules for us today? Better have some pizza in Los Olivos and head up Foxen Canyon. And climb Ballard too, and test the descent before the Double.

Wednesday morning comes, and we're 15 hours into the week. Time to ease up, at least for the morning. Good time to see how long it takes to get to Buellton for the start line Sat. morning.

Then it's off to Solvang for a new tire from Dr. J's and a Danish lunch at the Red Viking.
Legs are already feeling better, so it's back on the bike. Rolled around Solvang, Ballard Canyon, and back up to the first switchback on Figueroa.

Barbeque time – with a big day planned tomorrow, we broke out the briquettes.


Thursday brought a long day to grow some callouses and ready the legs for Saturday. Time to head up Foxen Canyon with a detour up Tepusquet Canyon. Made our way back to Santa Maria for a bag of chips and quart of chocolate milk, now to find the Cat Canyon, and get back to Foxen via Alisos Canyon. We were in the rhythm today – Solbanging – until struck with the Orcutt-Garry curse. A blowout flat by Bikeage simultaneous with an exploding buckle on Gordie's shoe…Boot and patch the tire, tear a valve stem off, try another tube, oops, need to re-boot the old Fig slash. Inflate again, but we're low on CO2. Tackle Cat Canyon, but not enough tire pressure to manage the cattle guard at the summit. 'Nother rear flat and Bikeage is getting worried. Long descent to Los Alamos, fill the bottles and add some air to the tire. Make it over Alisos Canyon and right turn on Foxen when the rear deflates again…Pete offers his tube and last CO2. Old fig boot doesn't hold again. Need to re-do and re-inflate. Pump decides it's used up it's inflating power for the day. Is there enough air in the tire? Sun is dipping below the hills. Can we get back before dark? Air problem is solved by standing the whole way back, but sun has set by the time we get to Los Olivos. Thankfully traffic is light and we limp home in the dark.

A long sleep-in on Friday, and time is spent to repair the damage from Thursday. New tire installed and re-stocked with tubes and cartridges. Test the tire with a trip to the Lavendar Farm and Beckman's Winery.

Another mental prep ride before a pasta dinner at Ceccho fills me up for the 200 miles to come on Saturday morning.

Fog and mist fills the valley Saturday at dawn.
While Bikeage tackles the Solvang Double Century, Gord and Pete take on the Figueroa climb via the southern counter-clockwise route. The cool weather helps on the day, and the road rubble is less dangerous when you're ascending. Then, everyone awaits the race report. A post with SRM power details is forthcoming – stay tuned.
It's a little sad to wake up on Sunday morning with an amazing week of riding behind you. We ticked off most of the boxes, but left some gems for the next visit. Despite a tight timetable to pack and make it to LAX, Gord and Jason clock another 1.5 hrs and the odometer rolls over 1000km for Bikeage.

Contact Bikeage if you're interested in joining Base Camp 2015.