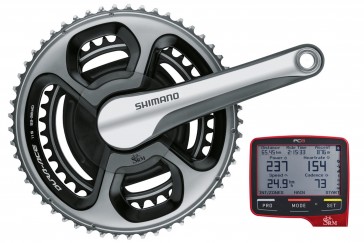 The lowest USD price ever on a top-level SRM Training System – $2,799 CAD for the Shimano 11 Speed compatible PowerMeter with PC8 in red, black, or silver. Never think about batteries again. With 3,000 hour battery life, you will probably never change the battery – bikes in five years will probably not have cranks anyways :).
Note – this price does not include rings. Our stock price with rings is $3,249.
If you already have Dura-ace 110 4 bolt cranks, just switch your rings over. Or ask your shop what the best price you can get – you may find a cheaper deal on 4 bolt rings or after market alternatives.
Click here to buy now, this price won't last long!