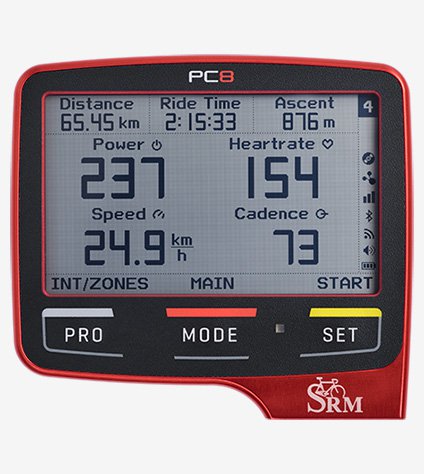 Pre-orders are almost shipping. Watch for product testing soon. Click here to order.
SRM has remained faithful to the PC8, which provides a device that is consistently focused on the needs of athletes and waives gimmicks. In addition to the known values such as power, heart rate, speed, etc. – the Training Peaks metrics such TSS® (Training Stress Score®), NP® (Normalized Power®) and IF® (Intensity Factor®) are stored and displayed.
Of course, the PC8 also has GPS and light sensor backlight, which can be turned off in order to prolong battery life (10-45 hours).
The memory capacity is about 4,000 hours of training. A built-in motion sensor turns the PC8 on automatically.
The freely configurable display has increased, so the PC8 has grown slightly. The shell is made of anodized aluminum, which is available in three different colors: red, black and titanium and can be personalized.
The charging and data transfer works via magnetic plug.